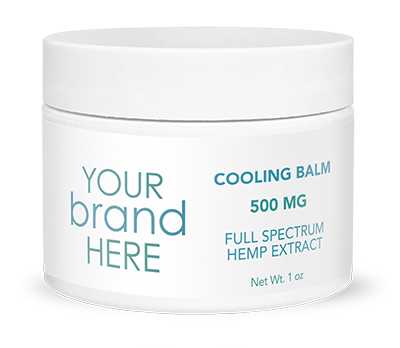 Product Description
Our cooling balms glide on the skin smoothly and provide a soothing blast of arctic cold to help relieve muscle aches. Custom Formulations available.
Ingredients: Grapeseed Oil, Beeswax, Cocoa Butter, Menthol Crystals, Camphor, Wintergreen, Peppermint Oil, Coconut Oil, Hemp Extract, Ravensara Oil, Rosemary Leaf Oil, Fennel Oil, Cypress Oil, Cinnamon Leaf Essential Oil
Lip balm tube
1oz metal tins
1oz jars (varying colors)
2oz twist up stick
2oz jars (varying colors)
Custom containers available
Available in 50mg, 100mg, 250mg, 300mg per net weight oz
Custom Formulation/Strength upon request
Minimum Order Quantity (MOQ)
1,000 Units (Standard Formula)
1,500 Units (One ingredient variation)
2,500 Units (Custom Formulation)
Private Label Request
Request more information about our private label program by filling out the form below.