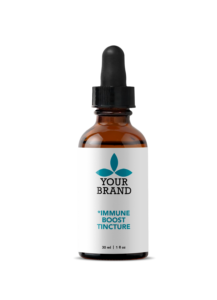 Product Description
Boost your immune system with our Immune Booster Tincture! This custom crafted tincture includes Vitamin-C, Vitamin D, and Turmeric. Our tinctures are antioxidant-rich and third-party lab tested for purity. Custom Formulations available.
Ingredients: Glycerin, Ethanol, Water, Green Tea Flavor Extract, Vitamin C, Turmeric C02 Extract, Vitamin D3
1 fluid oz. Amber or Blue Boston Round Bottles
Minimum Order Quantity (MOQ)
1,000 Units (Standard)
1,500 (One additional ingredient)
2,500 (Custom Formulations)
Private Label Request
Request more information about our private label program by filling out the form below.