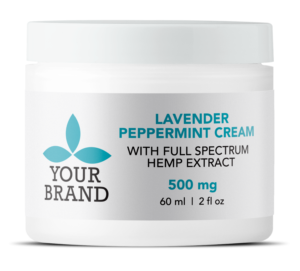 LAVENDER PEPPERMINT CREAM
Product Description
This cream moisturizes and softens the skin with the calming and uplifting scents of peppermint and lavender essential oils. Custom formulations upon request
Ingredients: Aloe Barbensis Leaf Juice, Water, Extra Virgin Olive Oil, Coconut Oil, Cetyl Stearyl Alcohol, Polysorbate 60, Mixed Tocopherols, Lonicera Caprifolium (Honeysuckle) Flower Extract, Cocoa Butter, English Lavender Fragrance Oil, Japanese Peppermint Essential Oil, Hemp Extract, Vitamin C as Ascorbic Acid.
CBD Nano-Emulsion or CBD FSH can be used
2oz net weight PP or glass jar
500mg per 2oz nt. wt.
Custom Strengths Available
Minimum Order Quantity (MOQ)
1,000 Units (Standard Formula)
1,500 Units (One ingredient variation)
2,500 Units (Custom Formulation)
Private Label Request
Request more information about our private label program by filling out the form below.